专辑英文名
: 101 Film Classics
专辑中文名
: 电影经典名曲101
艺术家
: Various Artists
古典类型
: 全集作品
资源格式
: FLAC
版本
: [6 CD]
发行时间
: 2016年11月09日
地区
: 美国
语言
: 英语
简介
:
专辑介绍:
周末夜狂热、越战猎鹿人、远离非洲、绿卡、沈默的羔羊、铁达尼号、新天堂乐园、星际大战、教会 等
Saturday Night Fever, The Deer Hunter
多人
Various
这套合辑收录了许多难忘的电影音乐片刻。六张CD,包含足足超过八小时的音乐,101首知名电影中的经典配乐。这些作品不局限於古典音乐,还包括了已经成为经典的流行音乐,如:周末夜狂热、乱世佳人、辛德勒名单、星际大战的配乐等。而其中的古典音乐,当然不乏像从「现代啟示录」中深受喜爱的「飞行的女武神」、「2001太空漫游」中的「查拉图斯特如是说」、「发条橘子」中的贝多芬第九号交响曲等。
电影开始有原声配乐,大概始自一九二零年代初期,虽然当时的电影还是默片居多,但许多电影都经委託作曲家创作配乐,供乐团在电影播放时同步演出。到了二零年代后期,发明了让声音和影片可以一起呈现的技术,有声电影的时代终於到来。当时的技术,对白、音效、配乐各自在不同的音轨上,因此才有了sound track这个名词,而这些都是要在画面拍摄后,进入后制阶段后再一一配上。
然而在二零年代,电影配乐都只是附属,没有人特别注意到它们,也没有商业价值,第一支被单独发行的电影原声带是1937年华特迪士尼绘制的卡通「白雪公主与七矮人」中的原声配乐,这之后米高梅电影公司的歌舞片才跟著发行原声带。而像本辑中著名的「乱世佳人」的原声带,一开始并没有单独发行,但因为太多人怀念片中的配乐,米高梅唱片公司才将配乐从电影胶捲中单独录下来,予以发行。至於约翰威廉士为「星际大战」所作的配乐,则堪称史上最畅销的原声带,在片中可以瞻仰这套配乐的丰采。
Film Classics 101 (6CD)
电影经典名曲101 (6CD)
发行公司:Linfair Records Limited/DECCA
产品编号:4783676
发行日期:2012/06/01
张数:6 张 - 6CD

Audio CD (September 9, 2016)
SPARS Code: DDD
Number of Discs: 6
Label: Decca
ASIN: B0072WZVV2
Performer: The London Festival Chorus, The John Alldis Choir, Wandsworth School Boys Choir
Orchestra: London Philharmonic Orchestra, The London Festival Orchestra, Royal Philharmonic Orchestra, Stanley Black and his Orchestra, Los Angeles Philharmonic
Conductor: Bernard Herrmann, Stanley Black, Barry Wordsworth, Zubin Mehta, Riccardo Chailly
Composer: Ennio Morricone, John Williams
For many their first encounter with classical music will be through its use in films and this collection makes a fantastic entry point to this rich and diverse world. Helpfully all tracks list the films alongside the music, so there will be no doubt as to where the music is familiar from.
Classical music has been used to memorable effect in films many times from Ride of the Valkyries in Apocalypse Now to Barber s Adagio in Platoon and from Also sprach Zarathustra in 2001: A Space Odyssey to Beethoven s Ninth in A Clockwork Orange. Occasionally, as in the case of Mozart s Piano Concerto No.21 used in Elvira Madigan, the film title has provided a lasting nickname for the music. All these favourites are included here.
Alongside two discs of popular favorites, there is a CD devoted entirely to piano music used in film, and another of opera favorites from the movies. Finally there are two discs of music composed for the cinema including the main themes from Star Wars and Schindler s List, both by John Williams, and classics from an earlier time including Gone with the Wind, Lawrence of Arabia and The Big Country.
With a running time approaching 8 hours of music this box set provides remarkable value for money.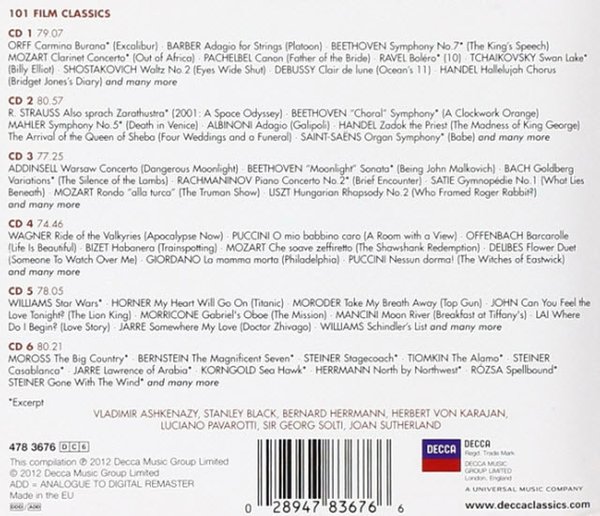 专辑曲目
:
CD 1
01. Carl Orff - O Fortuna (Excaliber)
02. Samuel Barber - Adagio for Strings, op.11 (Platoon, Elephant Man)
03. Ludwig van Beethoven - Symphony No. 7 in A major, op.92 - II. Allegretto (The King's Speech)
04. Wolfgang Amadeus Mozart - Clarinet Concerto in A major, K622 - II. Adagio (Out of Africa, Green Card)
05. George Frideric Handel - Keyboard Suite in D minor, HWV 437 - Sarabande (Barry Lyndon)
06. J. S. Bach - Harpsichord Concerto No. 5 in F minor, BWV 1056 - II. Largo (Hanna and Her Sisters)
07. Johann Pachelbel - Canon in D major (arr. Munchinger) (The Father of the Bride)
08. Maurice Ravel - Bolero (excerpt) (10)
09. J. S. Bach - Suite No. 3 in D major, BWV 1068) 'Air on the G string' (Runaway Bride, The Spy Who Loved Me)
10. Franz Schubert - String Quintet in C major, D956 - II. Adagio (excerpt) (Conspiracy)
11. Pyotr Ilyich Tchaikovsky - Swan Lake, op.20 - Scene (Moderato) (Billy Elliot, Black Swan)
12. Dmitri Shostakovich - Jazz Suite No. 2 - Waltz No. 2 (Eyes Wide Shut)
13. Claude Debussy - Suite bergamasque - Clair de lune (orch. Mouton) (Ocean's 11)
14. Gustav Holst - The Planets, op.32 - Saturn, the Bringer of Old Age (The Yards)
15. Wolfgang Amadeus Mozart - Le nozze di Figaro, K.492 - Overture (Trading Places)
16. George Frideric Handel - Messiah, HWV 56 - Hallelujah Chorus (Bridget Jones' Diary)
CD 2
01. Richard Strauss - Also sprach Zarathustra, op.30 - Prelude (2001. A Space Odyssey)
02. Ludwig van Beethoven - Symphony No. 9 in D minor, 'Choral' - IV. Presto - Allegro assai (A Clockwork Orange)
03. Gustav Mahler - Symphony No. 5 in C sharp minor - IV. Adagietto (Death in Venice)
04. Wolfgang Amadeus Mozart - Symphony No. 25 in G minor, K183 - I. Allegro con brio (Amadeus)
05. Tomaso Albinoni - Adagio for Strings and Organ in G minor (arr. Giazotto) (Gallipoli)
06. George Frideric Handel - Zadok the Priest (Coronation Anthem No. 1, HWV 258) (The Madness of King George)
07. George Frideric Handel - The Arrival of the Queen of Sheba (Solomon, HWV 67) (Four Weddings and a Funeral)
08. Edward Elgar - Cello Concerto in E minor, op.85 - I. Adagio - Moderato (excerpt) (Hilary and Jackie)
09. Giuseppe Verdi - La forza del destino - Sinfonia (Jean de Floret)
10. Pietro Mascagni - Cavalleria rusticana - Intermezzo (Raging Bull)
11. J.S. Bach - Double Violin Concerto in D minor, BWV 1043 - II. Largo ma non tanto (Children of a Lesser God)
12. Antonio Vivaldi - Nulla in mundo pax, RV 630 - 1. Nulla in mundo pax sincera (excerpt) (Shine)
13. Wolfgang Amadeus Mozart - Serenade in G major, K525 慐ine kleine Nachtmusik' - I. Allegro (Whole 9 Yards)
14. J.S. Bach - Sonata for Cello and Continuo No. 3 in G minor, BWV 1029 - II. Adagio (excerpt) (Truly, Madly, Deeply)
15. Camille Saint-Saens - Symphony No. 3 in C minor, op.78 'Organ' - IIb. Maestoso - Piu allegro (Babe)
CD 3
01. Richard Addinsell - Warsaw Concerto (Dangerous Moonlight)
02. Michael Nyman - The Heart Asks Pleasure First (The Piano)
03. Wolfgang Amadeus Mozart - Piano Concerto No. 21 in C major, K467 - II. Andante (Elvira Madigan)
04. Ludwig van Beethoven - Sonata No. 14 in C sharp minor, op.27 no.2 'Moonlight' - I. Adagio sostenuto
05. Ludwig van Beethoven - Piano Concerto No. 5 in E flat major, op.73 'Emperor' - Adagio un poco mosso
06. J.S. Bach - Goldberg Variations, BWV 988 - Aria (Silence of the Lambs, Hannibal)
07. Frederic Chopin - Nocturne in C sharp minor, op. posth. (The Pianist)
08. Franz Schubert - Piano Trio No. 2 in E flat major, D929 - II. Andante con moto (The Piano Teacher)
09. Sergey Rachmaninov - Piano Concerto No. 2 in C minor, op.18 - II. Adagio sostenuto (Extract) (Brief Encounter)
10. Erik Satie - Gymnopedie No. 1 (What Lies Beneath)
11. Charles Williams - The Dream of Olwen (While I Live)
12. Sergey Rachmaninov - Piano Concerto No. 3 in D minor, op.30 - I. Allegro ma non tanto (Excerpt) (Shine)
13. Wolfgang Amadeus Mozart - Piano Sonata No. 11 in A major, K331 'Alla turca' - III. Rondo (Truman Show)
14. Franz Liszt - Hungarian Rhapsody No. 2 in C sharp minor, S244 (Who Framed Roger Rabbit)
CD 4
01. Richard Wagner - Ride of the Valkyries (Apocalypse Now)
02. Alfredo Catalani - Ebben. No andro lontana (Diva)
03. Ruggiero Leoncavallo - Recitar! ... Vesti la giubba (The Untouchables)
04. Giacomo Puccini - O mio babbino caro (A Room with a View)
05. Vincenzo Bellini - Casta Diva (Lorenzo's Oil)
06. Giuseppi Verdi - Questa o quello (Wall Street)
07. Wolfgang Amadeus Mozart - Soave sia il vento (Sunday, Bloody Sunday)
08. Jacques Offenbach - Belle nuit, o nuit d'amour (Life is Beautiful)
09. Giacomo Puccini - Un bel di vedremo (Victor, Victoria)
10. Giuseppi Verdi - La donna e mobile (Dirty Rotten Scoundrels)
11. Georges Bizet - L'amour est un oiseau rebelle (Trainspotting)
12. Wolfgang Amadeus Mozart - Che soave zeffiretto (The Shawshank Redemption)
13. Leo Dilibes (Viens, Mallika ... Dome epais (Someone to Watch Over Me)
14. Giacomo Puccini - Che gelida manina (Moonstruck)
15. Georges Bizet - Je crois entendre encore (The Man Who Cried)
16. Antonin Dvorak - Mesicku na nebi hlubokem, (Song to the Moon) (Driving Miss Daisy)
17. Unberto Giordano - La mamma morta (Philadelphia)
18. Giacomo Puccini - Nussun dorma! (The Witches of Eastwick)
CD 5
01. John Williams - Main Title (Star Wars)
02. John Williams - Princess Leia's Theme (Star Wars)
03. James Horner - My Heart Will Go On (Titanic)
04. Nino Rota - Love Theme (Romeo and Juliet)
05. Dolly Parton - I Will Always Love You (The Bodyguard)
06. John Barry - We Have All the Time in the World (On Her Majesty's Secret Service)
07. Buffy Sainte-Marie, Jack Nitzsche - Up Where We Belong (An Officer and a Gentleman)
08. Giorgio Moroder - Take My Breath Away (Top Gun)
09. Elton John - Can You Feel the Love Tonight (The Lion King)
10. Barbra Streisand - Evergreen (A Star is Born)
11. Reg Presley - Love Is All Around (Four Weddings and a Funeral)
12. Ennio Morricone, Andrea Morricone - Nuovo Cinema Paradiso (Cinema Paradiso)
13. Ennio Morricone - Gabriel's Oboe (The Mission)
14. Harry M. Woods, James Campbell & Reginald Connelly - Try a Little Tenderness (The Commitments)
15. Henry Mancini - Moon River (Breakfast at Tiffany's)
16. Francis Lai - Where Do I Begin (Love Story)
17. Calvin Lewis, Andrew Wright - When a Man Loves a Woman (When a Man Loves a Woman)
18. Marvin Hamlisch - The Way We Were (The Way We Were)
19. Maurice Jarre - Somewhere My Love (Doctor Zhivago)
20. Barry Gibb, Robin Gibb & Maurice Gibb - How Deep is Your Love (Saturday Night Fever)
21. Stanley Myers - Cavatina (arr. Stanley Black) (The Deer Hunter)
22. John Williams - Main Theme (Schindler's List)
CD 6
01. Jerome Moross - Opening Music (The Big Country)
02. Elmer Bernstein - Theme (The Magnificent Seven)
03. Max Steiner - Main Theme (Stagecoach)
04. Dimitri Tiomkin - Main Theme (Alamo)
05. Max Steiner, Herman Hupfeld, Claude Joseph Rouget de Lisle & Franz Joseph Haydn - Casablanca (Casablanca)
06. Alfred Newman - Blood And Sand (Blood and Sand)
07. Ernest Gold - Exodus - Ari抯 Theme (Exodus)
08. Maurice Jarre - Theme (Lawrence of Arabia)
09. Alex North - Antony and Cleopatra's Theme (Cleopatra)
10. Erich Korngold - Main Title (Sea Hawk)
11. Jerry Goldsmith - Main Theme (Patton, Lust for Glory)
12. Victor Young - A Love Like This (For Whom the Bell Tolls)
13. Arthur Bliss - March (Things to Come)
14. Bernard Herrmann - Main Title (North by Northwest)
15. Miklos Rozsa - Theme (Spellbound)
16. Max Steiner - Music From The Motion Picture (Gone with the Wind)