专辑英文名
: Bach-Goldberg Variations
艺术家
: Angela Hewitt
古典类型
: 全集作品
资源格式
: FLAC
发行时间
: 2015年12月27日
地区
: 美国
语言
: 英语
简介
: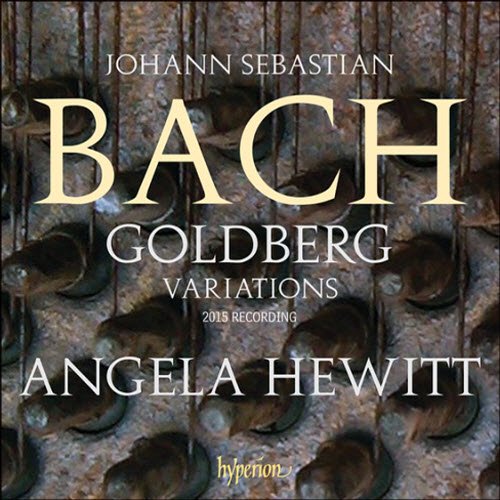 专辑介绍:
当代钢琴音乐的顶尖杰作,莫过於巴哈的《郭德堡变奏曲》,利用一首莎拉邦德舞曲做了三十段变奏,成为钢琴家演奏与乐迷欣赏的无限挑战与乐趣。因此无数钢琴家总是以灌录《郭德堡变奏曲》专辑作为个人演奏的里程碑,本专辑正是加拿大钢琴家安洁拉.休薇特的代表作。早在十八岁获得奥塔华大学巴哈音乐学会、并於1985年赢得多伦多国际巴哈钢琴大赛之后,休薇特全心全力投注於巴哈钢琴音乐里,不断获得国际乐坛的喝采,如今已被推崇为「同代最杰出的巴哈钢琴家」、「近年来无与伦比的巴哈专家」等评语。的确,从休薇特为Hyperion所灌录的一系列巴哈音乐以及这张专辑当中,您就可以体验到休薇特被誉为「巴哈钢琴家」的顶尖实力!
CDA68146 安洁拉.休薇特 / 巴哈:郭德堡变奏曲 Angela Hewitt / Bach, J S: Goldberg Variations (hyperion)
专辑类型: 1CD
发行年份: 2016
国际条码: 0034571281469
音乐厂牌: hyperion

Performer: Angela Hewitt
Conductor: Angela Hewitt
Composer: Bach
Audio CD (September 30, 2016)
Number of Discs: 1
Label: HYPERION
ASIN: B01HOU7H2C
Average Customer Review: 4.5 out of 5 stars
5.0 out of 5 starsAnother gem from Angela Hewitt
BySid NunciusTOP 500 REVIEWERon October 19, 2016
Format: Audio CD
I have loved Angela Hewitt's original recording of the Goldberg Variations ever since it was issued in 2000, so I was both excited and a little anxious about a new recording. No need for anxiety – this is another outstanding recording.
Hewitt has lived with this work for many, many years and has a deep understanding of it both scholastically and emotionally - that much was already evident in her original recording. This version, recorded on her own Fazioli piano, is recognisably different, but the differences are subtle and to me often almost intangible. The pulse of the dance which Hewitt understands so well is still there, as is the deep scholarship which illuminates every bar and also the radiant beauty she brings out of so many of the Variations. Although she obviously brings something new to the work here, I struggled to put my finger on exactly what it is because it's more a matter of mood and a slight mellowness, perhaps, than anything really obvious. In her typically readable and interesting notes, Hewitt says:
"The Steinway I recorded on back in 1999 was a most
beautiful instrument. My own Fazioli on this 2015 recording
is more flexible, more challenging to one's creativity, more
open to variations in sound and touch. The emphasis on
dance is more marked (dance in Bach means joy—one
would think that with age the capacity for joy diminishes,
but in fact I find the opposite). On this new recording the
phrasing is, I think, more elastic; the touch, when required,
lighter; the contrasts more apparent."
I agree, and I can't do better than that. What I can say is that this will take its place alongside her 2000 recording as a genuine favourite. It is, of course, superbly recorded by Hyperion and is a wholly involving pleasure to listen to.
Hewitt ends her notes with this: "But above all, the 'Goldberg' Variations has somehow become a mirror of my life, and gives me the opportunity to say with music that which I would never be able to express with words." That maturity and emotional investment shines out of this disc as she expresses Bach faithfully and very beautifully. I love it, and I can recommend it very warmly indeed.
Release Date September 30, 2016
Duration 01:21:56
Genre Classical
Styles Keyboard
Recording Date December 14, 2015 - December 17, 2015
Recording Location Christuskirche, Firlstraße, Berlin-Oberschöneweide
AllMusic Review by Blair Sanderson [-]
Renowned for her exquisite interpretations of the keyboard masterpieces of Johann Sebastian Bach, Angela Hewitt has recorded several of his works for Hyperion not just once, but twice. Hewitt's 1999 recording of the Goldberg Variations, BWV 988 was enthusiastically received and reinforced her status as a leading artist with the label. This 2015 recording, like her return visit to Bach's Well-Tempered Clavier, shows not so much a change in her overall approach but a thoughtful reappraisal of the finer points of touch, ornamentation, articulation, dynamics, timbre, and phrasing, which the space of 16 years has afforded her. What remains true of Hewitt's two performances is her fidelity to the independence of contrapuntal lines, her rhythmic spontaneity, and the subtlety of expression that gives her Bach depth and refinement, distinguishing it from other readings. Hewitt's Goldberg Variations redux is carefully considered and deeply felt, but it is not a rarefied product of isolation. Indeed, Hewitt's international performances of the Goldberg Variations seem to have inspired new ideas, and the openness of her expressions suggests the influence of her audiences, who have responded positively wherever she has played this work. Hyperion's recording in Berlin's Christuskirche gives the piano solid presence with acceptable reverberation, so nothing is lost to the acoustics. Highly recommended.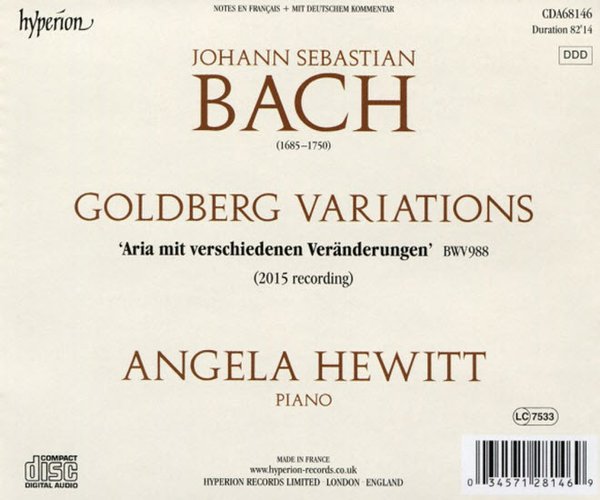 专辑曲目
:
Goldberg Variations 'Aria mit verschiedenen Veranderungen' BWV988 [81'58]
01. Aria [4'21]
02. Variation 1: a 1 Clav. [1'42]
03. Variation 2: a 1 Clav. [1'40]
04. Variation 3: Canone all'Unisuono. a 1 Clav. [2'19]
05. Variation 4: a 1 Clav. [1'08]
06. Variation 5: a 1 o vero 2 Clav. [1'32]
07. Variation 6: Canone alla Secunda. a 1 Clav. [1'56]
08. Variation 7: a 1 o vero 2 Clav. Al tempo di Giga [2'02]
09. Variation 8: a 2 Clav. [1'54]
10. Variation 9: Canone alla Terza. a 1 Clav. [1'59]
11. Variation 10: Fughetta. a 1 Clav. [1'37]
12. Variation 11: a 2 Clav. [2'08]
13. Variation 12: Canone alla Quarta. a 1 Clav. [2'35]
14. Variation 13: a 2 Clav. [5'01]
15. Variation 14: a 2 Clav. [2'11]
16. Variation 15: Canone alla Quinta. a 1 Clav. Andante [4'49]
17. Variation 16: Ouverture. a 1 Clav. [2'54]
18. Variation 17: a 2 Clav. [2'18]
19. Variation 18: Canone alla Sexta. a 1 Clav. [1'31]
20. Variation 19: a 1 Clav. [1'42]
21. Variation 20: a 2 Clav. [1'56]
22. Variation 21: Canone alla Settima. a 1 Clav. [3'19]
23. Variation 22: a 1 Clav. [1'30]
24. Variation 23: a 1 Clav. [2'13]
25. Variation 24: Canone all'Ottava. a 1 Clav. [3'25]
26. Variation 25: a 2 Clav. Adagio [8'50]
27. Variation 26: a 2 Clav. [2'03]
28. Variation 27: Canone alla Nona. a 2 Clav. [1'52]
29. Variation 28: a 2 Clav. [2'15]
30. Variation 29: a 1 o vero 2 Clav. [2'31]
31. Variation 30: Quodlibet. a 1 Clav. [2'00]
32. Aria da capo [2'45]