专辑英文名
: Martha Argerich and Friends Live from the Lugano Festival 2016
专辑中文名
: 阿格丽希2016卢加诺音乐节
艺术家
: Martha Argerich
古典类型
: 全集作品
资源格式
: FLAC
版本
: [24 bits 44 KHz][3 CD]
发行时间
: 2017年
地区
: 美国
语言
: 英语
简介
: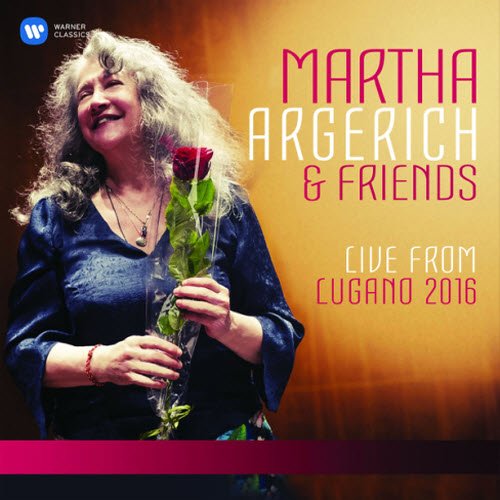 专辑介绍:
 2016年的卢加诺音乐节是该音乐节的最后一届,参与演出的有:安杰利希、柯瓦谢维奇、杭诺‧卡普松、蕾雀娜、典波,以及阿格丽希的女儿陈莉妲等人。是最完美的最后珍藏!
每年的夏天,是欧美各大管弦乐团放暑假的期间,不过,却也是各大音乐节或夏令音乐营活动盛大举办的黄金档期。欧洲的避暑盛地,几处定期举行的音乐节庆,不但是全球乐迷争相朝拜的圣地,也是独奏家们得以暂时放下有形与无形的界限,共同分享音乐美好的好所在。光是在瑞士一地,就有所谓的三大音乐节:琉森音乐节、韦比尔音乐节,以及由钢琴女皇阿格丽希主持的卢加诺音乐节。
2016年的卢加诺音乐节从6月7日一路持续举办至30日,也正好是这个音乐节15周年,阿格丽希在这一年也欢度了她的七十五岁生日。这个音乐节的焦点除了钢琴女皇霸气、精彩的演出加持,眾多年轻新秀在此展现超龄造诣,当然也是令人目不暇给的亮点。在这套录音里,收录了2016年卢加诺音乐节的精彩时刻,参与演出的有:安杰利希、柯瓦谢维奇、杭诺‧卡普松、蕾雀娜、典波,以及阿格丽希的女儿陈莉妲等人。全部录音採用现场拾音收录,完美再现每个动人的瞬间。
§ 曲 目 §
CD1
拉威尔:夜之加斯巴
1. 水妖
2. 绞刑台
3. 史卡波
阿格丽希 (Martha Argerich) ─钢琴
4-6 布梭尼:D大调小提琴协奏曲,作品35a, BV 243
杭诺‧卡普松 (Renaud Capuçon)─小提琴
维德尼可夫〈指挥〉瑞士义语区管弦乐团(Alexander Vedernikov / Orchestra della Svizzera italiana)
7-9 莫札特:D大调双钢琴奏鸣曲,K.448/375a
阿格丽希 (Martha Argerich) ─钢琴
巴拜扬(Sergey Babayan)─钢琴
10-11 法雅:两首西班牙舞曲,选自《短促的人生》
典波(Sergio Tiempo)─钢琴
蕾雀娜(Karin Lechner)─钢琴
CD2
1-3 拉威尔:G大调钢琴协奏曲
阿格丽希 (Martha Argerich) ─钢琴
维德尼可夫〈指挥〉瑞士义语区管弦乐团(Alexander Vedernikov / Orchestra della Svizzera italiana)
4-5 贝多芬:合唱幻想曲
阿格丽希 (Martha Argerich) ─钢琴
法索利斯指挥瑞士义语区管弦乐团(Diego Fasolis / Orchestra della Svizzera italiana)
安东妮兹〈女高音〉萝西〈女高音〉芙米亚莉〈次女高音〉吉尔敏〈次女高音〉史蒂芬〈男高音〉尼曼〈男高音〉贝洛托〈男低音〉
瑞士义语区广播电视合唱团
6-9 布拉姆斯:降E大调法国号三重奏
安杰利希(Nicholas Angelich) – 钢琴
杭诺‧卡普松 (Renaud Capuçon)─小提琴
大卫‧高赫耶 (David Guerrier)─法国号
CD3
1-3 贝尔格:为钢琴、小提琴与十三件木管乐器之协奏曲
安杰利希(Nicholas Angelich)─钢琴
杭诺‧卡普松 (Renaud Capuçon)─小提琴
长笛:葛罗西、席梅欧利
双簧管:齐亚方、齐柯利亚
单簧管:贝尔特拉米尼、吉欧弗雷迪
低音单簧管:法兰切斯齐尼
低音管:毕亚诺、山普里尼
法国号:费拉利
小号:布亚特
长号:洛西尼
指挥:舒瓦兹
4-7 巴哈:C小调小提琴奏鸣曲,BWV 1017
帕帕费拉米 (Tedi Papavrami)─小提琴
阿格丽希 (Martha Argerich) ─钢琴
8. 德布西:牧神的午后前奏曲(双钢琴版)
柯瓦谢维奇(Stephen Kovacevich)─钢琴
阿格丽希 (Martha Argerich) ─钢琴
9. 尼辛曼:男人的探戈
休伯特 (Eduardo Hubert) ─ 钢琴
尼辛曼 (Marcelo Nisinman) ─手风琴
马提诺夫 (Anton Martynov) ─小提琴
陈莉妲 (Lyda Chen) ─ 中提琴
布梭 (Jorge Bosso)─大提琴
艾瑞可法冈(Enrico Fagone)─低音大提琴
MARTHA ARGERICH & FRIENDS
阿格丽希 & FRIENDS (所有作品)
Martha Argerich & Friends : Live from Lugano 2016 (3CD)
阿格丽希2016卢加诺音乐节 3CD

Catalog No.: ECX1502
Product: 3 compact discs
Order info: Warner 0190295831653
Genres: collection plates instrumental / vocal
September 20, 2017
Martha Argerich and Friends: Live from Lugano 2016 CD review – a wonderful festival farewell
4 / 5 stars
Each autumn for more than a decade, EMI (now Warner Classics) has produced a three-disc compilation of recordings from the previous year's Progetto Martha Argerich, the annual festival that the great pianist founded in the Swiss city of Lugano in 2002. The mix of solo piano, chamber music and concertos has showcased an equal mix of generations, as Argerich's long-standing friends and collaborators played alongside up-and-coming musicians whom she supported. There was always something special among the recordings, even if there was not always as much of Argerich herself as her fans might have liked. But that all came to an end last year, when sponsorship of the festival was withdrawn, no replacement could be found and the 2016 festival had to be the last.
Martha Argerich: Live from Lugano CD review – real sense of occasion for 'friends' compilation
Lilya Zilberstein, Gautier Capuçon and Stephen Kovacevich are among Argerich's many top-rank collaborators in this festival offering
Read more
Appropriately for this final compilation, however, Argerich does feature prominently throughout the set. It opens with something that has been a real rarity for more than 30 years: her giving a solo performance of one of the pinnacles of the 20th-century piano repertoire. She recorded Ravel's Gaspard de la Nuit in the studio in the 1970s, and hearing her play it 40 years later with the same dazzling security and clarity is an extraordinary privilege. There is also yet another performance of Ravel's G major Concerto, a piece she must have performed and recorded more often than any other, though the orchestral playing on this latest one, from the Orchestra Svizzera Italiana under Alexander Vedernikov, doesn't quite match her brilliance.
Martha Argerich
Facebook Twitter Pinterest
Argerich also partners Sergei Babayan in Mozart's Sonata for Two Pianos K448, and Stephen Kovacevich in a two-piano arrangement of Debussy's Prélude à l'Après-Midi, as well as accompanying Tedi Papavrami in Bach's C minor Violin Sonata. But what I think is new to her discography is Beethoven's Choral Fantasy, in which (with Diego Fasolis conducting) she plays the obbligato piano part with tremendous panache. There are other treats, notably a wonderfully warm account of Brahms' Horn Trio, played by David Guerrier, Renaud Capuçon and Nicholas Angelich, and a feisty, muscular one of Berg's Chamber Concerto with Capuçon and Angelich as the soloists. But there is no doubting who the set is really all about.
Andrew Clements
August 07, 2017
Warner Classics to release recordings from the final 'Martha Argerich & Friends'
The end of an era: the new triple album of chamber music from the Lugano Festival will be the last.
Chamber-music lovers around the world are lamenting a void in this year's classical calendar. Due to discontinued funding, the Progetto Martha Argerich, with its festival held in Lugano (Switzerland) for the past 15 years, took its final bow with the 2016 edition. This marks the end of an era not only for the illustrious artists and rising stars who performed in this "showcase of superlative musicianship" (The Telegraph) year after year, but for the loyal fans and collectors of the 'Martha Argerich & Friends' live recordings.
Argerich's final, historic Lugano festival, held from 7-30 June 2016, was the 15th edition and celebrated the legendary Argentinian pianist's 75th birthday that month. Her special guests included pianists Stephen Kovacevich and Nicholas Angelich, violinist Renaud Capuçon and Argerich's daughter Lyda Chen (viola), alongside many of her young protégés, among them the pianist siblings Sergio Tiempo and Karin Lechner.
Warner Classics' triple-album collection of highlights, to be released in September 2017, captures the wide-ranging repertoire, intimate atmosphere and many brilliant performances from the festival's swansong – perhaps the most remarkable being a rare Argerich solo Ravel's Gaspard de la nuit – which she has played live only twice in 33 years – alongside the same composer's Piano Concerto in G Major with the Orchestra della Svizzera italiana.
Although the curtain has closed on Martha Argerich & Friends, the recordings will live on, as will the musical friendships forged within.
Praise for the Martha Argerich & Friends recordings:
"The releases of recordings from the Progetto Martha Argerich, the festival over which the great lady presides each June in the Swiss resort of Lugano, have become one of the most reliable annual fixtures in the CD calendar." –The Guardian, Martha Argerich & Friends 2015
"The festival has class written all over it and exudes more joy - and humour - than any comparable event known to me. –BBC Music Magazine
"The Progetto Martha Argerich…has become an annual event, and the recordings made there each year are eagerly anticipated. The music-making always has a tremendous energy and relaxed enjoyment about it, and there's invariably something unexpected…In everything, though, there's a sense of specialness, of off-the-cuff music-making of the highest class." –The Guardian, Martha Argerich & Friends 2014
"With each annual instalment of Martha Argerich's chamber music festival, you are plunged into a spontaneous ferment of music-making: few recordings capture so well the vivid energy of live performance. –The Guardian, Martha Argerich & Friends 2012
Also coming soon: Martha Argerich's new recording of Saint-Saëns's Carnival of the Animals.
In addition to the final Lugano collection, Martha Argerich will appear on a second, highly anticipated album to be released on Warner Classics in September 2017: a landmark new recording of Saint-Saëns's beloved Carnival of the Animals for two pianos and ensemble, with acclaimed conductor-pianist Sir Antonio Pappano as her enchanting duo partner. These two fine representatives of the pianist species recorded in Rome with hand-picked soloists from Pappano's Orchestra dell'Accademia Nazionale di Santa Cecilia – another example of Argerich in her element in a chamber music setting to cherish. The entire orchestra assembles under Pappano's baton for another of Saint-Saëns' most celebrated works, the magnificent 'Organ' Symphony, No 3, with Daniele Rossi as soloist.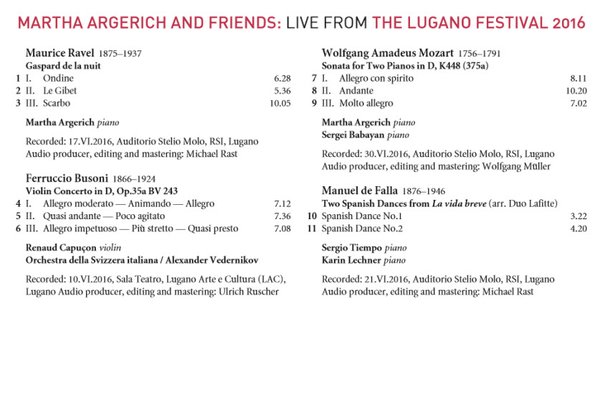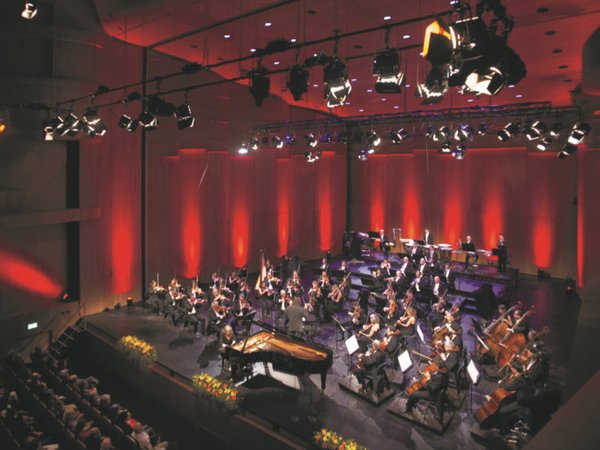 专辑曲目
:
01. Ravel: Gaspard de la nuit, M. 55: I. Ondine 06:28
02. Ravel: Gaspard de la nuit, M. 55: II. Le gibet 05:36
03. Ravel: Gaspard de la nuit, M. 55: III. Scarbo 10:10
04. Busoni: Violin Concerto in D Major, Op. 35a, BV 243: I. Allegro moderato - Animando 07:12
05. Busoni: Violin Concerto in D Major, Op. 35a, BV 243: II. Quasi andante - Poco agitato 07:36
06. Busoni: Violin Concerto in D Major, Op. 35a, BV 243: III. Allegro impetuoso - Più stretto - Quasi presto 07:13
07. Mozart: Sonata for Two Pianos in D Major, K. 448/375a: I. Allegro con spirito 08:11
08. Mozart: Sonata for Two Pianos in D Major, K. 448/375a: II. Andante 10:20
09. Mozart: Sonata for Two Pianos in D Major, K. 448/375a: III. Molto allegro 07:08
10. Falla / Arr Lafitte: 2 Spanish Dances from La vida breve: Dance No. 1 03:22
11. Falla / Arr Lafitte: 2 Spanish Dances from La vida breve: Dance No. 2 04:20
12. Ravel: Piano Concerto in G Major, M. 83: I. Allegremente 08:25
13. Ravel: Piano Concerto in G Major, M. 83: II. Adagio assai 08:53
14. Ravel: Piano Concerto in G Major, M. 83: III. Presto 04:27
15. Beethoven: Choral Fantasy, Op. 80: I. Adagio 03:22
16. Beethoven: Choral Fantasy, Op. 80: II. Finale (Allegro - Meno allegro - Allegro) 17:06
17. Brahms: Trio in E-Flat Major, Op. 40: I. Andante 08:25
18. Brahms: Trio in E-Flat Major, Op. 40: II. Scherzo (Allegro) 07:37
19. Brahms: Trio in E-Flat Major, Op. 40: III. Adagio mesto 07:59
20. Brahms: Trio in E-Flat Major, Op. 40: IV. Finale (Allegro con brio) 06:36
21. Berg: Chamber Concerto for Violin and Piano with Thirteen Wind Instruments: I. Thema scherzoso con variazioni 09:08
22. Berg: Chamber Concerto for Violin and Piano with Thirteen Wind Instruments: II. Adagio 14:20
23. Berg: Chamber Concerto for Violin and Piano with Thirteen Wind Instruments: III. Rondo ritmico con introduzione 12:08
24. Bach, JS: Violin Sonata No. 4 in C Minor, BWV 1017: I. Largo 03:55
25. Bach, JS: Violin Sonata No. 4 in C Minor, BWV 1017: II. Allegro 04:05
26. Bach, JS: Violin Sonata No. 4 in C Minor, BWV 1017: III. Adagio 03:15
27. Bach, JS: Violin Sonata No. 4 in C Minor, BWV 1017: IV. Allegro 04:51
28. Debussy: Prélude à l'aprés-midi d'un faune, L. 86 08:28
29. Nisinman: Hombre Tango 04:32