专辑英文名
: 101 Essential Opera Favourites
专辑中文名
: 101 精选歌剧典藏
艺术家
: Various Artists
古典类型
: 歌剧
资源格式
: MP3
发行时间
: 2010年02月02日
地区
: 美国
语言
: 英语
简介
: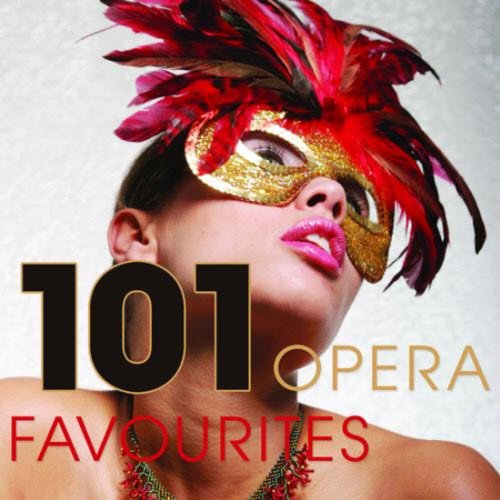 压缩码率:
320kbps
专辑介绍:
不是每齣歌剧都像[卡门],[蝴蝶夫人]那样,歌曲美丽到让不懂语言的人也能从头听到尾.
但每齣歌剧都有一些膾炙人口的永恒曲调,以各种面貌出现在日常生活.
这套《101首好听的歌剧入门选》无论欣赏或做为学习都很恰当.
【专辑名称】: VA - 101 Essential Opera Favourites
【歌手姓名】: VA
【发行日期】: 2010
【专辑流派】: Opera
CD 1
01. Puccini - Luciano Pavarotti - Nessun Dorma From Turandot
02. Bizet - Marylin Horne - Habanera Lamour Est Un Oiseau Rebelle From Carmen
03. Verdi - Joan Sutherland, Luciano Pavarotti - Miserere From Il Trovatore
04. Puccini - Mirella Freni, Luciano Pavarotti - Si, Mi Chiamano Mimi From La Boheme
05. Giordano - Jussi Bjorling - Amor Ti Vieta From Fedora
06. Gounod - Massard, Elkins, Sinclair - Soldiers Chorus Deposons Les Armes From Faust
07. Verdi - Joan Sutherland - Gualtier Malde...Caro Nome From Rigoletto
08. Puccini - Renata Tebaldi, Carlo Bergonzi - Love Duet Vogliatemi Bene From Madame Butterfly
09. Mozart - Brigitte Fa?baender - Voi Che Sapete From The Marraige Of Figaro
10. Rossini - Sherrill Milnes - Largo Al Factotum Form The Barber Of Seville
11. Bizet - Kiri Te Kanawa - Je Dis Que Rien Ne Mepouvante From Carmen
12. Donizetti - Sutherland, Pavarotti, Et. Al. - Sextet Chi Mi Frena In Tal Momento From Lucia Di Lammermoor
13. Charpentier - Joan Sutherland - Depuis Le Jour From Louise
14. Tchaikovsky - Nicolai Ghiaurov - Gremins Aria Lyubvi Vsye Vozrasti Pokorni From Eugene Onegin
15. Gounod - Sutherland, Corelli, Ghiaurov - Final Trio & Chorus Alerte! Alerte! From Faust
CD 2
01. Puccini - Gianni Schicchi - Oh! mio babbino caro
02. Verdi - Chorus of the Hebrew Slaves, Nabucco - Va, pensiero
03. Rodelinda - Dove sei, amato bene
04. Hendel - L'elisir d'amore - Una furtiva lagrima
05. Delibes - Bell Song, Lakme - Ou va la jeune Indoue
06. Puccini - Tosca - E lucevan le stelle
07. Mascagni - Easter Hymn, Cavalleria rusticana - Regina coeli laetare
08. Wagner - Prize Song, Die Meistersinger von Nurnberg - Morgendlich leuchtend
09. Wagner - Pilgrims' Chorus, Tannhauser - Begluckt darf nun dich, o Heimat
10. Dvorak - Song to the Moon, Rusalka - Me sic ku na nebi hlubokem
11. Mascagni - Cavalleria rusticana - Intermezzo sinfonico
12. Donizetti - La favorita - Spirto gentil
13. Gluck - Orfeo ed Euridice - Che faro senza Euridice
14. Puccini - Tosca - Recondita armonia
15. Verdi - Rigoletto - Bella figlia dell'amore
16. Donizetti - La Fille du regiment - Ah! mes amis…Pour mon ame
CD 3
01. Puccini - Luciano Pavarotti - Che Gelida Manina (La Boheme)
02. Delibes - Joan Sutherland - Flower Duet - Viens, Mallika...Dome epais Lejasmin (Lakme)
03. Mozart - Tom Krause - Non Piu Andrai, Farfallone Amoroso (Le Nozze Di Figaro Kv 492)
04. Mozart - Lucia Popp, Brigitte Fabaender, Tom Krause -Trio - Soave Siail Vento (Cosi Fan Tutte)
05. Gounod - Joan Sutherland -Jewel Song: O Dieu! Que De Bijoux - Ah! Je Ris De Me Voir (Faust)
06. Bizet - Libero De Luca, Jean Borthayre - Duet - Cest Toi ... Au Fond Du Temple Saint (Les Pecheurs De Perles)
07. Catalani - Renata Tebaldi - Ebben? ... Ne Andro Lontana (La Wally)
08. Verdi - Carlo Bergonzi - Oh! Fede Negar Potessi - Quando Le Sere Al Placido (Luisa Miller)
09. Leoncavallo - Chorus Of The Accademia Di Santa Cecilia, Roma - Bell Chorus - I Zampognari! (I Pagliacci)
10. Massenet - Giuseppe Di Stefano - Pourquoi Me Reveiller (Werther)
11. Bellini - Joan Sutherland - Polonaise- Polonaise: Son Vergin Vezzosa (I Puritani)
12. Leoncavallo - Ingvar Wixell - Prologue - Si Puo? Signore! Signori! (I Pagliacci)
13. Puccini - Kiri Te Kanawa - Vissi Darte (Tosca)
14. Verdi - Joan Sutherland, Luciano Pavarotti - Un Di Felice (La Traviata)
15. Ponchielli - Jussi Bjorling - Cielo E Mar! (La Gioconda)
16. Puccini - Giuseppe Taddei, Piero De Palma - Te Deum - Tre Sbirri, Una Carrozza (Tosca)
CD 4
01. Wagner - The Ride of the Valkyries - Die Walkure
02. Wagner - O Star of Eve - Tannhauser
03. Gluck - Che puro ciell - Orfeus & Euridice
04. Mozart - La ci darem la mano - Don Giovanni
05. Verdi - Ah si, ben mio - Il trovatore
06. Verdi - Ritorna vincitor! - Aida
07. Bizet - Flower song - Carmen
08. Puccini - Humming Chorus - Madama Butterfly
09. Marilyn Horne - Softly awakes my heart - Samson et Dalila
10. Gounod - Serenade - Faust
11. Verdi - O don fatale - Don Carlo
12. Puccini - Signore, ascolta! - Turandot
13. Adriana Lecouvreur - Cileea; Colautti - La dolcissima effigie - Adriana Lecouvreur
14. Offenbach - Baracarolle- Belle nuit, o nuit damour - Les Contes dHoffmann
15. Verdi - Morro, ma prima in grazia - Un ballo in maschera
16. Bizet - Toreador Song- Vivat! Vivat le torero!... Votre toast - Carmen
CD 5
01. Verdi - Luciano Pavarotti - La donna e mobile - Rigoletto
02. Rossini - Teresa Berganza - Una voce poco fa - The Barber of Seville
03. Mozart - Gabriel Bacquier - Serenade: Vieni alla finestra - Don Giovanni
04. Verdi - London Opera Chorus - Anvil Chorus: Vedi le foshe - Il Trovatore
05. Puccini - Elizabeth Harwood, Mirella Freni, Rolando Panerai, Michel Senechal - Musettas Waltz Song: Quando men co - La Boheme
06. Mozart - Tiri Te Kanawa - Dove sono - Le nozze di Figaro
07. Mozart - Tom Krause - Der Vogelfanger bin ich ja - Die Zauberflote
08. Joan Sutherland - Casta diva - Norma - Bellini
09. Giuilietta Simionato - Stride la vampa - Il trovatore - Verdi
10. Mario del Monaco - Recitar!... Vesti la guibba (On with the Motley) - Pagliacci - Leoncavallo
11. Mozart - Tom Krause - Finchhan dal vino - Don Giovanni
12. Puccini, compl. Alfano - Joan Sutherland, Luciano Pavarotti / In questa reggia - Turandot
13. Bizet - Regina Resnik, Mario del Monaco - Seguidilla: Pres des remparts de Seville - Carmen
14. Meyerbeer - Carlo Bergonzi - Mi batte il cor! ... O paradiso - LAfricaine
15. Ponchielli - Elena Suliotis - Suicidio! - La Gioconda
16. Verdi - Mario del Monaco, Ettore Bastianini - Solenne in questora - La forza del destino
17. Wagner - Birgit Nilsson - Mild und leise (Liebstod) - Tristan & Isolde
18. Wagner - Hans Hotter - Magic Fire Music - Die Walkure
CD 6
01. Puccini - Mirella Freni - Un bel di (One fine day) from Madama Butterfly
02. Verdi - Luciano PavarottiSe quel guerrier io fossi! ... Celeste Aida from Aida
03. Verdi - Orchestra of the Maggio Musicale Fiorentino - Prelude, Act I from La traviata
04. Verdi - Joan Sutherland, Carlo Bergonzi - Brindisi Libiamo ne lieti calici from La Traviata
05. Verdi - Luciano Pavarotti - Questa o quella from Rigoletto
06. Puccini - Renata Tebaldi - Sogno di Doretta from La Rondine
07. Donizetti - Fiorenza Cossotto - O mio Fernando from La Favorita
08. Jussi Bjorling - Chella mi creda from La Fanciulla del West
09. Puccini - Felicia Weathers - Tu che di gel sei cinta from Turandot
10. Verdi - London Opera Chorus - Soldiers Chorus Squilli, echeggi from Il Trovatore
11. Puccini - Carlo Bergonzi - Donna non vidi mai from Manon Lescaut
12. Verdi - Maria Chiara - Bolero Merce, dilette amiche from I Vespri Siciliani
13. Gounod - Nicolai Ghiaurov - Le Veau dOr (Song of the Golden Calf) from Faust
14. Giordano - Mario del Monaco - Colpito qui mavete... Un di allazzurro spazio from Andrea Chenier
15. Verdi - Orchestra and Chorus of the Academia di Santa Cecilia, Rome - Fire Chorus Fuoco di gioia from Otello
16. Cilea - Jussi Bjorling - Lamento di Federico from Larlesiana
17. Verdi - Anita Cerquetti - O patria mia from Aida
18. Verdi - Dietrich Fischer-Dieskau - Di Provenza il mar from La Traviata
19. Mascsgni - Renata Tebaldi - Voi lo sapete from Cavalleria Rusticana
20. Verdi - Mario del Monaco, Renata Tebaldi - Di quella pira from Il Trovatore

Audio CD (February 2, 2010)
Number of Discs: 6
Format: Import
Label: Imports
ASIN: B00343DXO0
Release Date February 1, 2010
Genre Classical
Styles Opera
'Over 7 hours of the greatest operatic arias and choruses', reads the blurb on the back of this box – and who could dispute this? Browsing through the artist list one immediately finds most of the great names from the period the recordings encompass – early 1950s through early 1980s. The Decca catalogue from this era is enormously rich, challenged, possibly, only by EMI. The quality of the recordings is high, technically as well as artistically. Some of the earliest recordings, notably the Pearl Fisher duet, show their age but are still more than acceptable. I can also imagine that individual listeners have favourite recordings of some of these numbers that the corresponding ones in this box can't quite match. By and large, however, this is a collection that should appeal to newcomers and jaded aficionados alike and for those just starting a collection this is a find, getting almost all the standard arias – and some duets, ensembles, choruses and a couple of orchestral excerpts – in one convenient box. The ordering of the items is totally haphazard; probably the producers have wanted each separate CD to be a varied as possible. It would have been convenient to the listener to have an alphabetic index, listing composers and singers, for easy access and the print is rather too small for those of us who have passed sixty – but there are magnifying glasses!
For most experienced collectors – including myself – the greatest drawback is presumably that we already have a large quantity of the items already, either on the complete sets or recitals from where they have been culled or on other similar compilations, for many of these recordings have been recycled over and over again.
I must admit that I haven't listened through all seven hours for this review but I know roughly 80% from earlier incarnations and my comments in the next few paragraphs concern a few items that I have discovered for the first time and some extraordinary performances that should be praised once again, in some cases with artists that are forgotten or underrated. Here we go!
Having for many years admired Ingvar Wixell I was eager to listen to the Pagliacci prologue with him from a set that I had overlooked. His rather gritty tone may not appeal to everyone, but his intensity and superb phrasing makes this a very worthwhile recording, almost comparable with Tito Gobbi's. Having played it through I couldn't resist playing CD 3 to the end, since I heard the opening of Kiri Te Kanawa's Vissi d'arte while I was still making notes. This is a recording I know very well and it struck me that this is arguably the most beautiful ever. As a vocal performance – as opposed to the theatrical readings by Callas – it is as close to perfection that it is possible to come. The Traviata duet that follows finds Pavarotti at his most sensitive and Joan Sutherland, though not as fresh as in her earlier recording, is as technically accomplished as ever.
Jussi Björling's Cielo e mar is another unsurpassed recording: noble, aristocratic and sensitive with that unique golden tone. Finally, back to Tosca, we meet Giuseppe Taddei's Scarpia. Together with Gobbi he was the greatest singing-actor among Italian baritones during the 1950s and 1960s and vocally he was superior. His reading here is a miracle of understatement.
Going back to the beginning of the disc I once again admired Pavarotti's Che gelida manina, from the Karajan recording of La bohème. This is arguably the best thing he ever did: sensitive, nuanced, glorious and with a magic pianissimo ending. Sutherland is, cleverly, represented by several excerpts from the 2 LP-album 'The Art of the Prima Donna', her very best recording, to my mind at least, and the aria from I puritani is masterly in every respect – she even pronounces quite a number of the consonants.
The duet from Les pêcheurs de perles is idiomatically French and – unlike the famous Björling-Merrill recording – this is a full version. Libero De Luca is no match for Björling but Jean Borthayre is truly excellent. Finally there is Carlo Bergonzi as Rodolpho in Luisa Miller, reminding us that by the side of Björling, he was the great aristocrat among tenors.
On CD 1 I was impressed by the sonic splendour of the soldiers' chorus from Faust (tr. 6) and Sherrill Milnes' powerful Figaro in the Factotum aria, where he sings with a great deal of 'face' (tr. 10).
CD 2 has Marilyn Horne in the beautiful Dove sei from Handel's Rodelinda, an aria I first became acquainted with in Kathleen Ferrier's English version. Ferrier sang it 'straight' whereas Horne indulges in quite extensive decorations in the reprise of the A section. There she also lightens the tone impressively (tr. 3). Pilar Lorengar's Song to the Moon from Rusalka (tr. 10) has appeared on various compilations, but I have to admit that while her legato is admirable her fluttery tone robs the aria of its ethereal qualities, which are so masterfully realised in, say, Renée Fleming's version on the complete recording. And then there is that famous recording by Pavarotti of the aria from La fille du Régiment with all those high Cs (tr. 16).
One of the highlights on CD 4 is Grace Bumbry's intense O don fatale from Don Carlo with Georg Solti whipping up the tension even further, and then she sings O mia Regina with hushed velvety tone (tr. 11). On track 12 one of my favourite sopranos, the greatly underrated Maria Chiara, delivers a magical reading of Signore, ascolta from Turandot, pure toned and lovely. It's a shame that she was so little recorded when she was in her prime: three recital records and two complete operas – that her total legacy – plus a live Aida from La Scala, opposite Pavarotti, when she was slightly past her best. The much maligned Mario Del Monaco sings the aria from Adriana Lecouvreur (tr. 13) with glowing tone and dramatic intensity and shows that he actually can scale down his magnificent instrument when Renata Tebaldi enters and they sing in unison. The last track (tr. 16) gives us the Toreador scene from Solti's Carmen recording. It's a lively and theatrical production with some spoken dialogue and José Van Dam a warm and humane bullfighter.
CD 5 opens with Pavarotti's swaggering Duke of Mantua in the evergreen La donna e mobile, followed by a very young Teresa Berganza in one of her signature roles, Rosina in Il barbiere di Siviglia. This is from a recital record, issued in 1959 when she was barely 24, only two years after her operatic debut. She made two complete recordings of the role in the mid-1950s for Decca and in the early 1970s for DG. The latter is regarded by many as one of the top contenders in the field. Back in 1959 she wasn't as fully fledged a comedian as she was to become but already a charmer. Gabriel Bacquier is a honeyed Don Giovanni in the serenade (tr. 3) while Tom Krause sings a vital and dynamic Champagne aria (tr. 11). Joan Sutherland is an impressive Turandot (tr. 12), more vulnerable than the traditional image of the icy princess, even though I prefer Birgit Nilsson's laser-beam projection of the role. Here she is a superb Isolde (tr. 17), another of her signature roles. This is not from one of her complete sets but from a separate highlight record, conducted by Hans Knappertsbusch.
Another magnificent voice is Elena Suliotis, singing Suicidio from La Gioconda (tr. 15) with the same intensity as Callas and with even more glorious tone. Recorded in 1967 she is caught before her far too early decline that cut short a promising career, due to her taking on far too heavy roles before her voice had settled properly. The last track of this disc is the final pages of Wagner's Die Walküre with Hans Hotter as Wotan. This is from the complete Ring under Solti and recorded in 1966 when Hotter was 57. The tone is more wobbly than it was when he recorded the long final scene with Birgit Nilsson a decade earlier but few have invested the role with such expressivity. And the recording quality is still sensational. An orchestral tour de force.
Brindisi from La traviata is one of the sublime moments on the 6th CD with Carlo Bergonzi a superb Alfredo, phrasing the music as no one else. Sutherland lacks most of her consonants but she sings with the same elegance as her tenor partner (tr. 4). On track 7 we meet Fiorenza Cossotto as Leonora in La favorita, singing in Italian. Since her debut in the late 1950s she was the leading Italian mezzo-soprano, a natural heir to Simionato. Her unfailingly steady tone and idiomatic phrasing in this aria amply demonstrates her capacity. On the next track Ch'ella mi creda from La fanciulla del West is gloriously sung by Jussi Björling with that typical 'tear' in the voice. He never sang Dick Johnson on stage but recorded the aria twice commercially, the first time in Swedish in 1935. Twenty-two years later he had lost nothing of the lightness and beauty of voice but added power and intensity. This reading is hard to beat.
Maria Chiara (tr. 12) once again proves that she was fully comparable with Tebaldi, whose natural successor she was thought to become. Mario Del Monaco (tr. 14) could hardly be accused of very much subtlety in his readings but the raw emotions and the undoubted power and glory of the voice fits as a glove for Andrea Chenier's Improvviso.
Another largely forgotten soprano appears on track 17: Anita Cerquetti. Born in 1931 she made her operatic debut at the age of 20, singing Aida in Spoleto. Too many heavy roles in a too tight schedule caused irreparable damage to her voice and she retired from the stage at the age of 30. She only made two commercial recordings, both in 1957: a complete La Gioconda and the recital from which this enormously impressive O Patria mia was culled. There are some pirate recordings with her, including an Aida from Mexico City in 1958, well worth searching out.
My final pick may also be the most controversial, since not every opera lover shares my enthusiasm for Dietrich Fischer-Dieskau's Verdi singing. Not Italianate enough and too much the Lieder singer, too detailed in his word-painting are the main objections, and I can see the point. But no one should be able to deny the beauty of tone, the marvellous legato and the sense of a real human being, not just a cardboard character, in Germont's aria (tr. 18). This is a masterly reading in its own terms.
Let me just stress that among the 71 excerpts not mentioned in this overview there are just as many gems and practically no dross. If the contents appeals to you, dear reader: add this box to your collection!

专辑曲目
:
CD 1 [71:58]
Giacomo PUCCINI (1858 – 1924)
1. Nessun dorma (Turandot) [2:57]
Luciano Pavarotti (tenor)
Georges BIZET (1838 – 1875)
2. L'amour est un oiseaux rebelle (Carmen) [4:10]
Marilyn Horne (mezzo)
Giuseppe VERDI (1813 – 1901)
3. Miserere (Il trovatore) [4:56]
Joan Sutherland (soprano), Luciano Pavarotti (tenor)
Giacomo PUCCINI
4. Si, mi chiamano Mimi (La bohème) [5:15]
Mirella Freni (soprano)
Umberto GIORDANO (1867 – 1948)
5. Amor ti vieta Fedora) [1:55]
Jussi Björling (tenor)
Charles GOUNOD (1818 – 1893)
6. Marthe! Dieu soit loué! C'est vous! …Déposons les armes (Soldiers' chorus, Faust) [6:24]
Ambrosian Opera Chorus
Giuseppe VERDI
7. Gualtier Maldè … Caro nome (Rigoletto) [6:19]
Joan Sutherland (soprano)
Giacomo PUCCINI
8. Vogliatemi bene (Madama Butterfly) [8:01]
Renata Tebaldi (soprano), Carlo Bergonzi (tenor)
Wolfgang Amadeus MOZART (1756 – 1791)
9. Voi che sapete (Le nozze di Figaro) [2:42]
Brigitte Fassbaender (mezzo)
Gioachino ROSSINI (1792 – 1868)
10. Largo al factotum (Il barbiere di Siviglia) [4:50]
Sherrill Milnes (baritone)
Georges BIZET
11. Je dis que rien ne m'épouvante (Carmen) [5:46]
Kiri Te Kanawa (soprano)
Gaetano DONIZETTI (1797 – 1848)
12. Chi mi frena (Lucia di Lammermoor) [3:42]
Joan Sutherland (soprano), Luciano Pavarotti (tenor), Ryland Davies (tenor), Huguette Tourangeau (mezzo), Sherrill Milnes (baritone), Nicolai Ghiaurov (bass)
Gustave CHARPENTIER (1860 – 1956)
13. Depuis le jour (Louise) [4:05]
Joan Sutherland (soprano)
Pyotr TCHAIKOVSKY (1840 – 1893)
14. Gremin's aria (Eugene Onegin) [5:37]
Nicolai Ghiaurov (bass)
Charles GOUNOD
15. Alerte, alerte (Faust) [5:19]
Joan Sutherland (soprano), Franco Corelli (tenor), Nicolai Ghiaurov (bass)
CD 2 [78:54]
Giacomo PUCCINI
1. Oh mio babbino caro (Gianni Schicchi) [2:07]
Renata Tebaldi (soprano)
Giuseppe VERDI
2. Va, pensiero (Nabucco) [4:43]
Konzertvereinigung Wiener Staatsopernchor
George Frideric HANDEL (1685 – 1759)
3. Dove sei (Rodelinda) [7:01]
Marilyn Horne (mezzo-soprano)
Gaetano DONIZETTI
4. Una furtiva lagrima (L'Elisir d'amore) [4:46]
Giuseppe Di Stefano (tenor)
Leo DELIBES (1836 – 1891)
5. Oùva la jeune Indoue (Bell song, Lakmé) [7:50]
Giacomo PUCCINI
6. E lucevan le stele (Tosca) [3:08]
Franco Corelli (tenor)
Pietro MASCAGNI (1863 – 1945)
7. Regina coeli (Easter hymn, Cavalleria rusticana) [5:24]
Julia Varady (soprano), London Opera Chorus
Richard WAGNER (1813 – 1883)
8. Morgenlich leuchtend (Die Meistersinger von Nürnberg) [4:23]
James King (tenor)
9. Beglückt darf nun (Pilgrims' chorus (Tannhäuser) [4:56]
Wiener Staatsopernchor
Antonín DVORÁK (1841 – 1904)
10. Song to the Moon (Rusalka) [6:10]
Pilar Lorengar (soprano)
Pietro MASCAGNI
11. Intermezzo (Cavalleria rusticana) [3:55]
Orchestra dell'Accademia Nationale di Santa Cecilia/Tullio Serafin
Gaetano DONIZETTI
12. Spirto gentil (La favorita) [5:27]
Luciano Pavarotti (tenor)
Christoph Willibald GLUCK (1714 – 1787)
13. Che farò (Orfeo ed Euridice) [3:49]
Teresa Berganza (mezzo)
Giacomo PUCCINI
14. Recondita armonia (Tosca) [2:47]
Franco Corelli (tenor)
Giuseppe VERDI
15. Bella figlia dell'amore (Rigoletto) [5:31]
Joan Sutherland (soprano), Huguette Tourangeau (mezzo), Luciano Pavarotti (tenor), Sherrill Milnes (baritone), Martti Talvela (bass)
Gaetano DONIZETTI
16. Ah! mes amis … Pour mon âme (La fille du régiment) [6:57]
Luciano Pavarotti (tenor)
CD 3 [72:55]
Giacomo PUCCINI
1. Che gelida manina (La bohème) [4:38]
Luciano Pavarotti (tenor)
Leo DELIBES
2. Viens, Mallika …Dôme épais (Flower duet, Lakmé) [5:59]
Joan Sutherland (soprano), Jane Berbié (mezzo)
Wolfgang Amadeus MOZART
3. Non più andrai (Le nozze di Figaro) [3:51]
Tom Krause (baritone)
4. Soave sia il vento (Così fan tutte) [2:41]
Lucia Popp (soprano), Brigitte Fassbaender (mezzo), Tom Krause (baritone)
Charles GOUNOD
5. Ô Dieu! que de bijoux … Ah, je ris de me voir (Jewel Aria, Faust) [4:39]
Joan Sutherland (soprano)
Georges BIZET
6. C'est toi … Au fond du temple saint (Les Pêcheurs de perles) [8:50]
Libero De Luca (tenor), Jean Borthayre (baritone)
Alfredo CATALANI (1854 – 1893)
7. Ebben? Ne andrò lontana (La Wally) [4:56]
Renata Tebaldi (soprano)
Giuseppe VERDI
8. Oh! fede negar potesse … Quando le sere al placido (Luisa Miller) [5:01]
Carlo Bergonzi (tenor)
Ruggiero LEONCAVALLO (1858 – 1919)
9. I zampognari! … Don din don (Pagliacci) [4:01]
James McCracken (tenor), Coro dell'Accademia di Santa Cecilia
Jules MASSENET (1842 – 1912)
10. Pourquoi me réveiller (Werther) [3:02]
Giuseppe Di Stefano (tenor)
Vincenzo BELLINI (1801 – 1835)
11. Son vergin vezzosa (I puritani) [3:02]
Joan Sutherland (soprano)
Ruggiero LEONCAVALLO
12. Prelude … Si può? (Prologue, Pagliacci) [3:26]
Ingvar Wixell (baritone)
Giacomo PUCCINI
13. Vissi d'arte (Tosca) [3:17]
Kiri Te Kanawa (soprano)
Giuseppe VERDI
14. Un di felice, eterea (La traviata) [3:28]
Joan Sutherland (soprano), Luciano Pavarotti (tenor)
Amilcare PONCHIELLI (1834 – 1886)
15. Cielo e mar (La Gioconda) [4:59]
Jussi Björling (tenor)
Giacomo PUCCINI
16. Tre sbirri, una carozza … Te Deum (Tosca) [5:05]
Giuseppe Taddei (baritone)
CD 4 [72:19]
Richard WAGNER
1. Hojotoho! Hojotoho! (Die Walküre) [6:20]
Wiener Philharmoniker/Georg Solti
2. Wie Todesahnung … O du mein holder Abendstern (Tannhäuser) [5:40]
Tom Krause (baritone)
Christoph Willibald GLUCK
3. Che puro ciel (Orfeo ed Euridice) [4:36]
Teresa Berganza (mezzo)
Wolfgang Amadeus MOZART
4. La ci darem la mano (Don Giovanni) [3:23]
Lucia Popp (soprano), Tom Krause (baritone)
Giuseppe VERDI
5. Ah si, ben mio (Il trovatore) [2:58]
Carlo Bergonzi (tenor)
6. Ritorna vincitor (Aida) [7:32]
Leontyne Price (soprano)
Georges BIZET
7. La fleur que tu m'avais jetée (Carmen) [3:51]
Giacomo PUCCINI
8. Humming Chorus (Madama Butterfly) [3:04]
Wiener Staatsopernchor, VPO/Herbert von Karajan
Camille SAINT-SAËNS (1835 – 1921)
9. Mon coeur s'ouvre à ta voix (Samson et Dalila) [6:25]
Marilyn Horne (mezzo)
Charles GOUNOD
10. Vous qui faites l'endormie (Faust) [2:58]
Nicolai Ghiaurov (bass)
Giuseppe VERDI
11. O don fatale (Don Carlo) [4:55]
Grace Bumbry (mezzo)
Giacomo PUCCINI
12. Signore, ascolta (Turandot) [2:36]
Maria Chiara (soprano)
Francesco CILEA (1856 – 1950)
13. La dolcissima effigie (Adriana Lecouvreur) [2:00]
Mario Del Monaco (tenor)
Jacques OFFENBACH (1819 – 1880)
14. Belle nuit, ô nuit d'amour (Barcarolle, Les Contes d'Hoffmann) [4:13]
Joan Sutherland (soprano), Huguette Tourangeau (mezzo)
Giuseppe VERDI
15. Morrò, ma prima in grazia (Un ballo in maschera) [4:50]
Georges BIZET
16. Vivat! Vivat le torero … Votre toast (Carmen) [6:58]
José Van Dam (baritone)
CD 5 [71:28]
Giuseppe VERDI
1. La donna è mobile (Rigoletto) [2:26]
Luciano Pavarotti (tenor)
Gioachino ROSSINI
2. Una voce poco fa (Il barbiere di Siviglia) [6:01]
Teresa Berganza (mezzo)
Wolfgang Amadeus MOZART
3. Deh, vieni alla finestra (Don Giovanni) [2:02]
Gabriel Bacquier (baritone)
Giuseppe VERDI
4. Anvil Chorus (Il trovatore) [2:50]
London Opera Chorus, National Philharmonic Orchestra/Richard Bonynge)
Giacomo PUCCINI
5. Quando m'en vo (La bohème) [2:45]
Elizabeth Harwood (soprano)
Wolfgang Amadeus MOZART
6. Dove sono (Le nozze di Figaro) [4:57]
Kiri Te Kanawa (soprano)
7. Der Vogelfänger bin ich ja (Die Zauberflöte) [2:37]
Tom Krause (baritone)
Vincenzo BELLINI
8. Casta diva (Norma) [6:29]
Joan Sutherland (soprano)
Giuseppe VERDI
9. Stride la vampa (Il trovatore) [2:52]
Giulietta Simionato (mezzo)
Ruggiero LEONCAVALLO
10. Recitar! … Vesti la giubba (Pagliacci) [3:35]
Mario Del Monaco (tenor)
Wolfgang Amadeus MOZART
11. Finch'han dal vino (Don Giovanni) [1:26]
Tom Krause (baritone)
Giacomo PUCCINI
12. In questa reggia (Turandot) [6:32]
Joan Sutherland (soprano)
Georges BIZET
13. Près de ramparts de Séville (Carmen) [3:53]
Regina Resnik (mezzo)
Giacomo MEYERBEER (1791 – 1864)
14. Mi batte il cor … O Paradiso (L'Africaine) [2:52]
Carlo Bergonzi (tenor)
Amilcare PONCHIELLI
15. Suicidio! (La Gioconda) [4:18]
Elena Suliotis (soprano)
Giuseppe VERDI
16. Solenne in quest'ora (La forza del destino) [4:07]
Mario Del Monaco (tenor), Ettore Bastianini (baritone)
Richard WAGNER
17. Mild und Leise (Tristan und Isolde) [7:06]
Birgit Nilsson (soprano)
18. Loge, hör! (Die Walküre) [4:40]
Hans Hotter (bass-baritone)
CD 6 [70:53]
Giacomo PUCCINI
1. Un bel di vedremo (Madama Butterfly) [4:33]
Mirella Freni (soprano)
Giuseppe VERDI
2. Se quell guerrier io fossi … Celeste Aida (Aida) [4:27]
Luciano Pavarotti (tenor)
3. Prelude act I (La traviata) [3:54]
Orchestra del Maggio Musicale Fiorentino/John Pritchard
4. Libiamo (La traviata) [2:57]
Joan Sutherland (soprano), Carlo Bergonzi (tenor)
5. Questa o quella (Rigoletto) [1:47]
Luciano Pavarotti (tenor)
Giacomo PUCCINI
6. Chi il bel sogno di Doretta (La rondine) [2:49]
Renata Tebaldi (soprano)
Gaetano DONIZETTI
7. O mio Fernando (La favorita) [3:45]
Fiorenza Cossotto (mezzo)
Giacomo PUCCINI
8. Ch'elle mi creda (La fanciulla del West) [2:25]
Jussi Björling (tenor)
9. Tu che di gel sei cinta (Turandot) [2:53]
Felicia Weathers (soprano)
Giuseppe VERDI
10. Soldiers' Chorus (Il trovatore) [2:00]
London Opera Chorus, National Philharmonic Orchestra/Richard Bonynge)
Giacomo PUCCINI
11. Donna non vidi mai (Manon Lescaut) [2:33]
Carlo Bergonzi (tenor)
Giuseppe VERDI
12. Mercè, dilette amiche (I vespri siciliani) [3:39]
Maria Chiara (soprano)
Charles GOUNOD
13. Le veau d'or (Faust) [2:08]
Nicolai Ghiaurov (bass)
Umberto GIORDANO
14. Colpito qui m'avete … Un di all'azzura spazio (Andrea Chenier) [4:53]
Mario Del Monaco (tenor)
Giuseppe VERDI
15. Fuoco di gioia! (Otello) [2:44]
Coro e Orchestra dell'Accademia di Santa Cecilia/Carlo Franci
Francesco CILEA
16. E la solita storia (L'arlesiana) [4:51]
Jussi Björling (tenor)
Giuseppe VERDI
17. Qui Radames verrà! … O Patria mia (Aida) [6:34]
Anita Cerquetti (soprano)
18. Di Provenza il mar (La traviata) [4:33]
Dietrich Fischer-Dieskau (baritone)
Pietro MASCAGNI
19. Voi lo sapete (Cavalleria rusticana) [3:50]
Renata Tebaldi (soprano)
Giuseppe VERDI
20. Di quella pira (Il trovatore) [3:38]
Mario Del Monaco (tenor)
Göran Forsling