中文名
: 历史记录清除软件
英文名
: InfoWorks History Sweeper
资源格式
: 压缩包
版本
: v3.35
发行时间
: 2013年03月
地区
: 美国
语言
: 英文
简介
: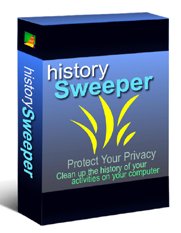 软件类型:
软件>系统工具
应用平台:
Windows
操作系统:
Works with Windows 7 and Windows 8 and Windows 95/98/ME/2000/XP/Vista.
问题反馈:
support@itcompany.com
网站链接:
http://www.itcompany.com/sweeper.htm
软件介绍:
History Sweeper 是一个可以清除你计算机中无用文件和历史记录的一个非常小巧的软件,如注册表无用项,文档、运行、查找记录。清理的非常快速、安全。
ALERT! YOUR PC PRIVACY IS AT RISK
Did you know that Windows maintains an "unseen" history of all of your PC activities, including files you have opened, websites visited, e-mails sent, logins and passwords, etc? It is important to understand that even having taken steps to "delete" files, cookies, search terms, browser history, etc., your data and activity remains on your PC "unseen. This leaves a history of all of your PC activity available to anyone who may currently have or someday gain access to your computer, be it family, employer, colleague, legal, PC maintenance, shared network, wireless network, or hacker sources. In addition, when you are on the Internet, you may have downloaded intrusive devices such as cookies, bugs, and spyware onto your computer. The intrusive devices may strike at any time. These problems raise not just privacy concerns but serious security issues as well.
ACT NOW! PROTECT YOUR PC PRIVACY
To truly erase this information off of the hard drive requires a deeper professional "cleaning" of your computer that is provided by History Sweeper software. History Sweeper is very simple and quick to use, and can provide you with the peace-of-mind of knowing that your personal activity and information will remain private and protected.
USE REGULARLY TO IMPROVE SYSTEM PERFORMANCE
By maintaining this history of all your PC activity and "deleted" files, the performance of your PC is impacted with less efficient use of the disk space and disk mapping. History Sweeper serves as a very beneficial general PC maintenance program, saving storage space, allowing more efficient mapping, and improving the performance of your PC in the process.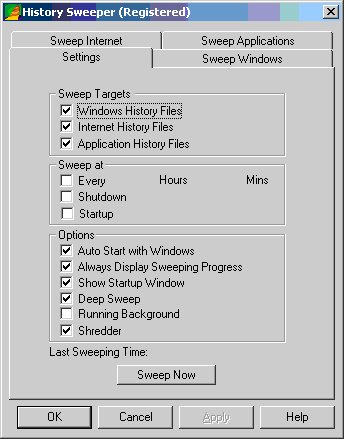 代码
        ÛÛ²Û ±             InfoWorks History Sweeper v3.35               ± Û²ÛÛ
        Û ßÛ °             (c) InfoWorks Technology Company              ° Ûß Û
        Û°°Û                                                               Û°°Û
        Û°°Û    URL ........: http://www.itcompany.com                     Û°°Û
        Û°°Û                                                               Û°°Û
        Û°°Û    Supplier ...: TEAM LAXiTY     Soft Type ...:  APP    [X]   Û°°Û
        Û°°Û    Packager ...: TEAM LAXiTY                     GAME   [ ]   Û°°Û
        Û°°Û    Cracker ....: TEAM LAXiTY                     OTHER  [ ]   Û°°Û
        Û°°Û    Rel. date ..: 04.03.13                                     Û°°Û
Run "hs335.reg". 
LXTCRC:89197:8742
--------------------
转贴自bone。
软件未经过安全检测和安装测试。杀软误报请自行斟酌。
软件版权归原作者及原软件公司所有,如果你喜欢,请购买正版软件。